About UR Housing
◆What is UR Housing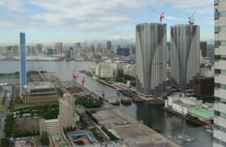 "UR" stands for Urban Renaissance and is an independent administrative corporation formed by the Japanese national government. Compared to Private apartments, UR is very flexible and has many benefits. The UR agency does not demand key money, agent fee, renewal fee and most especially the UR agency does not ask for a guarantor!
The UR apartments, however, are first come first serve system based. You have to go to UR offices where you can check vacancies and reserve an apartment. Nonetheless, popular UR apartments has few vacancies and vacancy situation changes from time to time. Therefore, it is difficult for busy working people to find a UR apartment. Here is where WHITESTONE can help you get your desired apartment!
◆WHITESTONE SERVICES PROVIDE:
1. Increase of chance to get desired apartment
- We go to UR agency several times a day in search of vacant rooms.
2. Preferring the right apartment
- Through 5 years of experience, we provide trust-able and worthy information to help you find the right apartment.
3. We accompany our clients in room viewing
- We go with our customer in viewing the room(As the regulation, room viewing is only allowed once) and give answers to their questions.
4. Easy and smooth contract
- We explain thoroughly the needed documents and initially checking them before the contract date. We will accompany you until the contract signing is done!
5. Help in obtaining utility connections.
- We contact the Utility connections(Water, Gas and Power) on your behalf.
6. Bilingual staff and service free of charge
- We have friendly bilingual staff(English-Japanese) to assist you. Our service is completely FREE of charge!
STEPS
Private Apartment
UR Housing with WHITESTONE support
Finding an apartment
-Search vacant apartments in the internet
-Call or E-mail UR Whitestone and simply tell us your requirements and we will look for the apartment that matches your needs.
-Visit the real estate office/agent.
-No hassle of going anywhere.
Viewing of the room
Required documents / Screening
Residence Certificate
Residence Certificate
Residence Certificate of guarantor
No Guarantor needed
Valid I.D. and of Guarantor
Valid Visa and Identification Card
Income Certificate
*Income Certificate
Screening takes about 1 to 2 days or more (because of different standards)
Screening is very simple and takes 1 to 2 minutes because The UR agency has one established standard.
Contract signing and Initial payment
-pay 0 to 2 months rent as a gift to the landlord
-NO Key money
-pay 1 months rent as a finder's fee to the realtor
-NO Agent's fee
-Renewal fee every 2 years,which equals to 1 month rent
-NO Renewal charge
-needs a guarantor
-NO Guarantor
-pay 1 to 2 months security deposit
-1 ~ 3 months deposit**
-pay 1 to 2 months rent in advance
-UR office only requires a 1 month rent
Contract signing takes 1 to 2 hours
Contract signing only takes 30~40 minutes***
e.g. Total cost for¥100,000 1LDK rent
¥300,000~800,000
¥100,000~400,000
*Annual Income should be at least ¥3,000,000
**The UR agency usually have a sales campaign where they only require 2 months deposit.
***We Collect the necessary documents from you in advance so that on the day of contract signing everything goes smoothly.
◆REQUIREMENTS TO RENT A UR-APARTMENT:
1. To rent an apartment with 62,500 and above monthly rent, the annual income should be 3 million yen and above for individual and 4 million yen for family.
For people whose income is less than 3 million, their monthly salary should be 4 times the value of the rent.
Eg. If one have a monthly salary of only 190,000, the maximum rent amount that one can rent is 190,000 ÷ 4 = 47,500
2. One should have a 1 year visa. Short-term visa is not permitted.
---